The 2012 Freestyle Kayaking World Cup Champion was decided on September 9 on the Nantahala River near Bryson City NC. Athletes from more than 17 countries and 5 continents participated.
Judges used the new NOC digital freestyle scoring system, which was unveiled for the 2012 World Cup Series, and real-time scores were displayed at the venue. "The scoring system makes the sport truly accessible to spectators and enthusiasts," said designer Raymond Brugger of Bryson City, NC.
Competition began at 10 am each day and ended around 7 pm. Spectators had free admission with shaded riverside seating, live DJ and event announcer.
Free live music followed the competition on Friday and Saturday evening. On Sunday, following the conclusion of competition, the event winners as well as the overall World Cup Champions were recognized at a riverside awards ceremony. Several local children assisted with the presentation of medals.
VIDEO FROM THE WORLD CUP
2012 ICF CANOE FREESTYLE WORLD CUP SERIES: FINAL RESULTS
Scroll panel to view all event results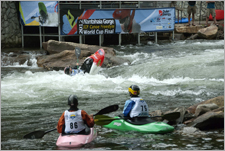 NANTAHALA RIVER
WORLD CUP #3 RESULTS:

Day Three, September 9:
Men's K1 Final Results
Women's K1 Final Results
C1 Final Results
Junior Men's K1 Final Results
OC1 Final Results
Junior Women's Final Results
Men's Squirt Finals
Women's Squirt Finals
OC1 Semi Finals Results

Day Two, September 8:
Men's K1 Semi Finals Results
Women's K1 Semi Finals Results
C1 Semi Final Results
Junior Men's K1 Semi Finals Results
Women's Preliminary Results
C1 Preliminary Results
Men's Quarter Finals Results

Day One, September 7:
Men's Preliminaries Results
OC1 Preliminary Results
Junior Women's K1 Preliminary Results
Junior Men's K1 Preliminary Results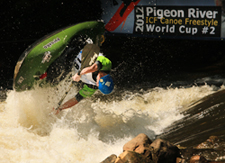 PIGEON RIVER WORLD CUP #2 RESULTS:
Day Four, September 1:
Men's K1 Final
Women's K1 Final
C1 Final
OC1 Final
Junior Men's Final
Junior Women's Final
Men's Squirt Boating Final
Women's Squirt Boating Final
Day Three, August 30:
Men's K1 Semi-Finals
Women's K1 Semi-Finals
C1 Semi-Finals
Junior Men's K1 Semi-Finals
Day Two, August 29:
Women's K1 Preliminaries
C1 Preliminaries
Junior Men's K1 Preliminaries
Junior Women's Preliminaries
Day One, August 28:
Men's K1 Preliminaries
OC1 Preliminaries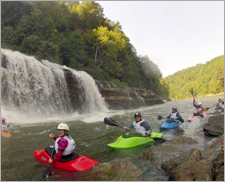 ROCK ISLAND WORLD CUP #1 RESULTS:
Day Three, August 26:
Women's K1 Final
Men's K1 Final
C1 Final
OC1 Final
Junior Men's K1 Final
Junior Women's K1 Final
Day Two, August 25:
Men's K1 Quarter Finals
C1 Preliminaries
OC1 Preliminaries
Junior Men's K1 Semi-Finals
Day One, August 24:
Women's K1 Preliminaries
Men's K1 Preliminaries