PARKING AND SHUTTLES - 3 Options
1) Park in the Gorge
and ride a very short shuttle to the event. There are approximately 500 parking spaces with 2 miles of the event site. All these spaces are east of NOC (toward Bryson City). Drive toward NOC and follow directions to the nearest open spaces. Shuttles start at 9 am every day and run until the end of the day's official festivities.
During the weekend and at peak times NOC will open 250 more parking spaces on the west end of the Gorge (toward Andrews). These lots are approximately 5 miles from NOC. When open, these lots will have a flagger waving event traffic into the open lots.
There is a $5 per-vehicle per-day fee for all parking in the Nantahala Gorge. Click here for the Gorge shuttle schedule.
2) Enjoy FREE parking in Bryson City and take advantage of hourly shuttles to the event. Take Exit 67 off US 19/74 and head downhill into Bryson City. Follow signs to the free shuttle parking lot at the Ingles supermarket. (19 Hughes Branch Rd. 28713).
If the Ingles supermarket lot fills, signs and flaggers will lead you a short distance to additional parking areas. Click here for the Bryson City shuttle schedule.
3) The coolest option: the Great Smoky Mountains Railroad is offering one-way shuttle tickets to the Gorge for only $10. Guests riding the scenic railroad will park at GSMR's Bryson City parking lot, and ride the hourly NOC shuttle bus back to town when they're ready to go home. More info
PARADE OF ATHLETES & OPENING CEREMONIES
Our week of official events kicks off at 6 pm on Monday, September 2 with the parade of athletes and official welcome ceremony in downtown Bryson City. The ceremony will include a performance by the Warriors of AniKituhwa, a traditional Cherokee dance group; and will be followed by the Big Air Show.
BIG AIR SHOW
From a riverside ramp, kayakers are lauched high into the air before splashing down into the Tuckasegee River. Open to athletes; skill level required. Kayaks are provided.

ARTISANS' VILLAGE - FRIDAY - SUNDAY
Explore the Artisans' Village with a variety of traditional mountain arts and crafts on display and for sale. You may find handmade jewelry, recycled glass art, pottery, organic herb and spice mixes and more. The Village is sponsored by Stecoah Valley Cultural Arts Center, which provides authentic Appalachian experiences with music programs, an artisans' gallery, festivals, and classes in heritage crafts and culinary arts.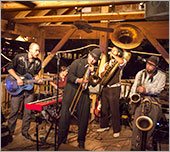 MUSIC


Look for live music every night of the week at the venue in the Gorge and in Bryson City, where musicians will be performing throughout the streets of town. And, of course, many of the local restaurants and taverns will be offering music throughout the week as well. Music schedule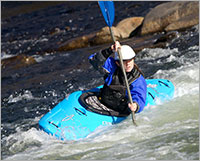 FUN ACTIVITIES FOR EVERYONE

Between competitions there are lots of fun paddle-sports activities for spectators and athletes alike … such as Fontana Lake demo tours, kayak races, head-to-head SUP race, team rodeo races, rubber duckie races, canoe ball race and more. There will also be fun activities for children like face painting and bouncy house; and vendors will be on site offering product demos, giveaways, interactive contests, official souvenirs and more.
NOC Mini-Me Rodeo Tuesday. Teams of up to 4 paddlers surf the 2013 Wave earning points for spins, stunts and spectacular carnage. No rafting experience is necessary, just a adventurous spirit and comfort swimming in whitewater.
Wave Sport Wesser Falls Extreme Race Wednesday. The race runs through the 2013 Wave and finishes in Fontana Lake. Top athletes negotiate the class 5 Wesser Falls, striving to find the fastest line and stay upright and ahead of the competition. The winner of each heat will progress to the next round, until a winner emerges from the final race.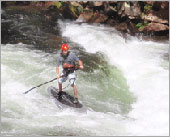 Bomber Gear SUP Race Thursday. Stand-up Paddleboarders race head-to-head through the 2013 Wave.
Dagger Dash Thursday. Meet at the Nantahala Falls for the Dagger Dash, this fun, free-for-all competition ending at the NOC Founder's Bridge. The event entails a le-mans start, and participants will have to scramble to find the boat of their choice to run the Nantahala Falls. Boats will include play boats, duckies, flat water boats, creek boats and river runners. Strategy, speed, good humor, and a bit of luck will decide the winners. Prizes will be awarded for different classes, including short boat, long boat, inflatable and non-whitewater craft. Please feel free to use our boats or to provide your own. All participants MUST wear appropriate PFD and helmet.
Bomber Gear Dress for Success Challenge Friday. Open to paddlers of all ability, the challenge is a fun, approachable way to get involved. Competition takes place just downstream of the 2013 Wave.
US Wildwater Nationals Classic Race Friday. The Race will begin at Ledge's Rapid and finish below the 2013 Wave. A variety of classes promote fair competition. Cost is $20 for both Classic and Sprint (Sat.) components.
Dagger presents 8-Ball Competition Friday. Paddlers race head-to-head negotiating gates, and trying not to get knocked off course.
US Wildwater Nationals Sprint Race Friday. The race will start below the Nantahala Falls and finish below the 2013 Wave. Top athletes will paddle Wildwater boats and vie for the title of US Champion, but the event is open to everyone and multiple rec. classes will be available. Cost is $20 for both Sprint and Classic (Fri.) components.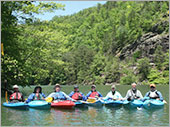 Wilderness Systems Lake Demos Saturday & Sunday. Free and available to paddlers and non-paddlers alike. Test out flat water boats and explore beautiful, tranquil Fontana Lake from NOC's flat-water access, just a short walk downstream of the 2013 Wave.
Wilderness Systems Challenge Saturday. Teams of 3 maneuver flat water boats around a course on Fontana Lake. Winners receive a Wilderness Systems prize pack. Suitable for paddlers of all ability levels.
VIP Raft Race Saturday. VIPs race through Nantahala Falls and the 2013 Wave.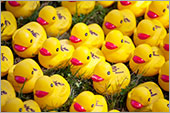 Rubber Duckie Races Friday, Saturday & Sunday. $5 buys you a duckie and a chance to win great prizes. Proceeds benefit Swain County & Robbinsville High School Athletic Programs, PAWS No-Kill Pet Shelter, and the Nantahala Racing Club.
AT Canoe Ball Saturday. Like to kayak? Like to play basketball? Register in teams of 3 or let us help you find a team in this canoe/basketball mix.
Dagger Presents: The RPM Stern Squirt Session Sunday. Dust off your long boats, pull on your neoprene, don't miss this retro rodeo on the Nantahala. Points are awarded for pirouettes, surfs and squirts, as well as style.

While you are watching these great athletes compete all week and urging them on, take time to enjoy all that "Event Week" has to offer – both at the venue and in the surrounding area.
LIVE ENTERTAINMENT & MUSIC SCHEDULE
Event Schedule - Subject to change at Organizer's discretion

ALL TIMES ARE IN US Eastern Daylight Time: UTC/GMT -4 hrs

Monday, September 2


6 pm: Athlete Parade & Opening Ceremonies
in Bryson City

WATCH

6:45 pm: Warriors of AniKituhwa, presented by Duke Energy

WATCH
7 pm: Big Air Show - Everett Street Bridge, Bryson City
WATCH

Live Music - Various Locations (see schedule)
ENJOY
Tuesday, September 3

11 am - 12:30 pm: Competition: Heats (K1 Men Junior)

WATCH
12:30 pm: NOC Mini-Me Rodeo
JOIN IN

1:40 - 3:45 pm: Competition: Heats (K1 Men Junior,
OC1 Men)

WATCH
Live Music - Various Locations (see schedule)
ENJOY
Wednesday, September 4

11 am - 2 pm: Competition: Heats (Squirt Women
& Men)

WATCH
2 pm: Wave Sport Wesser Falls Extreme Race
JOIN IN

4:00 - 4:30 pm: Competition: Heats (K1
Women Junior)

WATCH
Live Music - Various Locations (see schedule)
ENJOY
Thursday, September 5
11 am - 2:30 pm: Competition: Heats (K1 Men)
WATCH
2:30 pm: Bomber Gear SUP Head-to-Head Race
JOIN IN
3:30 - 5:30 pm: Competition: Heats (K1 Men)
WATCH
5:30 pm: Dagger Dash
JOIN IN
Live Music - Various Locations (see schedule)
ENJOY
Friday, September 6
10 am - 5 pm: Appalachian Artisans Fair
ENJOY

11 am - 12 pm: US Wildwater Nationals Classic Race

JOIN IN

12 - 2:30 pm: Competition: Heats (C1 Men, K1 Women)

WATCH

2:30 pm: Bomber Gear Dress for Success Challenge

JOIN IN

3:15 - 4:30 pm: Competition: Heats (K1 Women)

WATCH

4:30 pm: Rubber Duckie Race to benefit Swain & Robbinsville High School athletic programs

JOIN IN

5 - 7 pm: Competition: Quarterfinals (K1 Men)

WATCH

7 pm: Dagger presents 8-Ball Competition thru 2013 Wave

JOIN IN

Live Music - Various Locations (see schedule)

ENJOY
Saturday, September 7
10 am - 5 pm: Appalachian Artisans Fair
ENJOY

11 am - 12 pm: US Wildwater Nationals Sprint Race

JOIN IN

11 am- 2 pm: Wilderness Systems Lake Demos

JOIN IN

12 - 3:00 pm: Competition: Semifinals (Squirt Men & Women, K1 Men Junior)

WATCH

2 pm: Wilderness Systems Challenge

JOIN IN

3 pm: AT Canoe Ball

JOIN IN

4 - 4:45 pm: Competition: Semifinals (C1 Men)

WATCH

4:45 pm: VIP Raft Race

WATCH

5:30 pm: Rubber Duckie Race to benefit PAWS No-Kill Animal Shelter

JOIN IN

9 - 11 pm: Competition: Semifinals (K1 Women,
K1 Men)

WATCH

Live Music - Various Locations (see schedule)

ENJOY
Sunday, September 8
10 am - 5 pm: Appalachian Artisans Fair
ENJOY

10 am - 12:30 pm: Competition: Finals (Squirt Women & Men, OC1 Men, K1 Women Junior)

WATCH

11 am - 3 pm: Wilderness Systems Lake Demos

JOIN IN

12:30 pm: Awards Ceremony

WATCH

1 pm: Rubber Duckie Race to Benefit the Nantahala
Racing Club

JOIN IN

1:15 pm - 2:30: Competition: Finals (K1 Mens Junior,
C1 Men)

WATCH

2:30 pm: Dagger presents: The RPM Stern Squirt Session

JOIN IN
3:15 - 4:45 pm: Competition: Finals (K1 Women, K1 Men)
WATCH

4 - 7 pm: Live Music with Unspoken Tradition at NOC

ENJOY

5 pm: Awards Ceremony

WATCH

5:15 pm: Closing Ceremonies

WATCH

8 - 11 pm - Live Music with Dirty Bourbon River Show at NOC

ENJOY